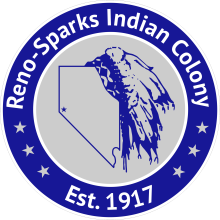 The Reno-Sparks Indian Colony formed a federally recognized government in 1936 under the Indian Reorganization Act.  Located in Reno, Nev., the RSIC consists of 1,296 members from three Great Basin Tribes – the Paiute, the Shoshone and the Washoe.  The reservation lands consist of the original 28-acre Colony located in central west Reno and another 15,263 acres in Hungry Valley, which is 19 miles north of the Colony and 7 miles passed Spanish Springs High School on Eagle Canyon Drive.
The RSIC is a vibrant, expanding organization which balances our traditional teachings and rich culture with contemporary business methods and innovative governmental practices.  We employ more than 300 people; more than 150 are our own tribal members. 
Our mission is to offer opportunities for tribal members to improve their lives and enhance tribal values by making community programs, services, and projects available; while educating the general public about our history, culture and modern lifestyle.