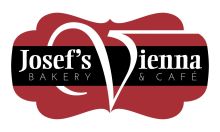 European Style Bakery & Cafe in Reno, NV
Josef's Vienna Bakery & Cafe has been serving up decadent pastries for the Reno area since Josef and Sonja Pasa opened it in 1980. They assembled a menu built with their families' authentic Austrian goodies that stays true to today. This bakery has grown into a full-service restaurant and has quickly become Reno's go-to for sweet treats and delicious meals.
This European bakery produces all kinds of pastries, homemade breads, wedding cakes, and more with its fresh and authentic ingredients! On the restaurant side of things they're serving up breakfast, lunch and everything in between. Come into Josef's Vienna Bakery & Cafe and treat yourself to delectable food or order one of their incredible cakes for your next special event.