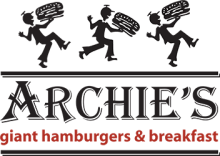 Burgers & Breakfast in Reno, NV
Celebrating 27 years in business, Archie's is hot spot for breakfast, lunch and dinner. Located close to the University of Nevada Reno and with their long hours, it's popular with hungry students and faculty and offers student discounts through their rewards program.
Breakfast, ranging from hotcakes and omelettes to a giant breakfast burrito and breakfast burger, starts at 6 a.m. and is served all day. Their giant hamburgers are served in a variety of tasty combinations and voted among Nevada's best burgers with Archie's Giant Burger and the Wolfpack. Their expansive menu also includes sandwiches, wings, fish & chips, salads, chili and more.
Happy hour every day from 4 to 6 p.m. brings special deals on beer, wine and well drinks. Archie's is open every day.