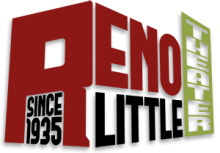 Reno Theater is a Piece of History
Reno Little Theater (RLT) is Nevada's longest-running community theater, with roots dating back to 1935. Volunteer-oriented, Reno Little Theater is a nonprofit orgnaization that provides a range of plays each season as well as theater education camps and classes. Reno Little Theater's current space on Pueblo Street is a hip and attractive building in the arts district of Midtown, where they present a range of comedies, dramas, musicals, and more.
Enjoy Variety at this Reno Theater
This Reno theater offers a full season of plays each year, including musicals, comedy, mystery, suspense, and drama. With everything from the classics to today, you'll love every play! 
Reno Theater is Community Based
The biggest little city's biggest little theater is the place to be to learn about live theater. This Reno theater has offered adult and children the opportunity to explore drama classes, children's theater, and has put on over 5,000 on-stage performances. Reno Little Theater has also taken its productions from the main stage to Reno parks and to other Nevada communities.