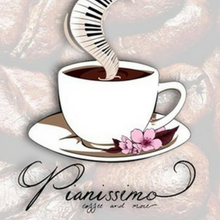 PIANISSIMO IS YOUR LOCAL CBD CAFE
Coffee and More at this Reno Coffee Shop
Pianissimo Coffee and More lives up to the name. This Reno coffee shop offers everything from quality espresso drinks, gourmet coffee, kombucha on tap and yummy shakes to pastries, bagels, casserole and even CBD chocolates. With all oils made in-house, this is truly Reno's original CBD cafe and is much more than a coffee shop! There are delicious treats served every day, and a nice selection of beer, wine and champagne. The decor changes once a month, offering a unique experience everytime you visit. 
Reno Coffee Shop Excels in Customer Service 
Pianissimo Coffee and More prides itself on great customer service. This Reno coffee shop has a friendly staff that is more than happy to help. This staff is also very knowledgeable in coffee expertise and will always help you find your perfect cup. Sit back and relax, and let the experts guide you to your new favorite caffeinated drink or CBD treat. 
Find Your Perfect Roast at this Reno Coffee Shop
This Reno coffee shop has everything you need to find the perfect roast for you. Pianissimo has a large selection of coffee! The slow bar options are perfect to brew with and bring out all a coffee has to offer. Be sure to try the affogato and seasonal lattes. Choose from blended coffee, espresso and more.