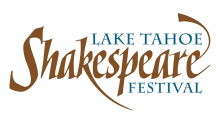 Enjoy extraordinary entertainment in an exceptional setting. Get tickets here!
---
Lake Tahoe Shakespeare Festival (LTSF) is a nonprofit organization established for the cultural benefit and enjoyment of all residents of and visitors to the region. The company strives to produce/present the finest cultural events at Lake Tahoe and educate future generations about the importance of incorporating theater, music and art into their everyday lives.
Lake Tahoe Shakespeare Festival at Sand Harbor of Lake Tahoe Nevada State Park affords extraordinary evenings of exceptional entertainment on the beach for patrons of all ages and, under the stewardship of the company's Board of Directors and Festival management, it has also become one of the most acclaimed cultural events in the United States.
LTSF's professional productions of Shakespeare and other classic plays/musicals are enjoyed by approximately 30,000 patrons each summer. The Festival's Showcase Series, which features the best of the region's arts and cultural organizations, attracts an additional 6,000 patrons. Furthermore, the company's D.G. Menchetti Education Programs serve approximately 8,000 young people throughout our region each year, through two programs: Young Shakespeare, a free, interactive adaptation of a Shakespeare play for children, and InterACT, a residency program which explores Shakespeare and the classics in schools throughout the region during the academic year.
Imagine your toes in the sand, a fantastic bottle of wine nearby, a gourmet meal in hand and first-class entertainment before you… all while basking in a perfect Lake Tahoe sunset with your friends and family. You're not dreaming, you're experiencing the enchantment of Lake Tahoe Shakespeare Festival.