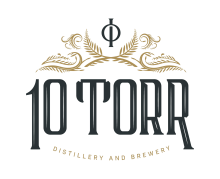 Distillery & Brewery in Reno, NV
10 Torr Distilling & Brewing is located in Reno, NV and is the producer of 10 Torr Precision Crafted Beers and 10 Torr Vacuum Distilled Spirits. 10 Torr Distilling & Brewing is located in a 1940s-era grocery store that has been remodeled with some of building's original materials. All of the brewing and distilling equipment was designed and built in house here in Reno. You can taste the goods in the tap room or outside patio where your dog is welcome to join in on the outdoor games that are offered. Local food trucks stop by regularly and weekly entertainment like trivia and open mic nights are always a crowd pleaser. Book a tour and find out for yourself how the 10 Torr taste is created!
10 Torr Vodka & Gin Distilling 
The gin and vodka are are made with vacuum distillation that occurs at extremely low pressure and below room temperature. This allows for less chemical reactions from normal, heated distillation, that can produce harsh unwanted flavors. 10 Torr is one of a handful of distilleries in the world that cold distills and the only one known to produce all of its products from grain to glass.
10 Torr Brewing
The beer is clarified in a centrifuge to prevent the need for chemicals to enhance the flavors. Independently grown hops and local honey are used. Our custom-built brewing equipment enables the use of malts, grains and whole cone hops from smaller independent producers without sacrificing efficiency or quality. 10 Torr beers are clarified through a centrifuge to best protect the aroma and flavors without using any chemical fining agents.