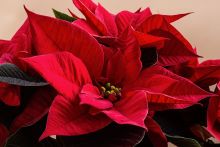 December is a funny time of year because we're done with the harvest, the temperatures are dropping and we're beginning to get snow. Of all the seasons, this is when it seems that thoughts of plants and vegetation should be the furthest from our minds. And yet, for a sizeable percentage of the population, now is when pine boughs woven into wreaths adorn so many doors. Holly and mistletoe make an appearance. The debate rages on as to whether artificial trees are better than real ones. But perhaps the biggest point of contention in the world of December-time flora is – how in the world is "poinsettia" really pronounced? If you can believe it, there are even You-Tube videos devoted to this question. And I'm sure as shootin' not going to put myself on the firing line by taking a side here, but I will let you know that this shrub has the name it does because it's named after Joel Poinsett, who was the first U.S. Minister to Mexico and who is said to have introduced the plant here to our country in the 1820s. I'll also clue you in as to where you might be able to still pick one up for your home décor if your place is lacking in red and green foliage. Photo at left: Pixabay, Angelina Ho.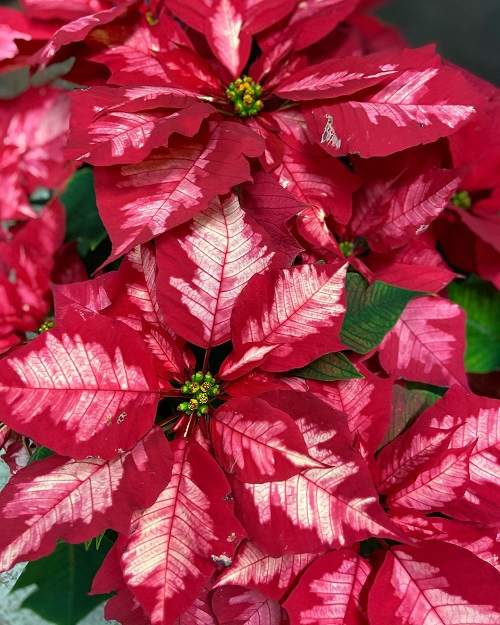 One good place to start is Moana Nursery. Of course, that's not a surprise, because Moana is like the 800-pound gorilla of plants here in the Truckee Meadows. They boast a comprehensive knowledge of how to grow your greenery (and other plants that are maybe more brown or yellow or whatever) in the high-desert climate that we enjoy here and can also offer advice on a wide range of subjects from landscaping to greenhouses. And it just so happens that they're running a special on poinsettias through the end of the month and also have a whitepaper available to help you provide the very best care possible for your leafy little friend. Photo at right: Facebook, Moana Nursery.
Over in the Sparks area, Rail City Garden Center is a big name in home foliage. Time sure does fly because this next year marks 15 years since they opened their doors. They've got their hands in a lot of outdoorsy kinds of services, too, from arborist work to landscaping, and my favorite – cool water features. If you happen to have a Rail City Garden Center calendar stuck up on your refrigerator or pinned to a corkboard, you're in luck! Check out the coupon in it for a discount on poinsettias, good through the end of December.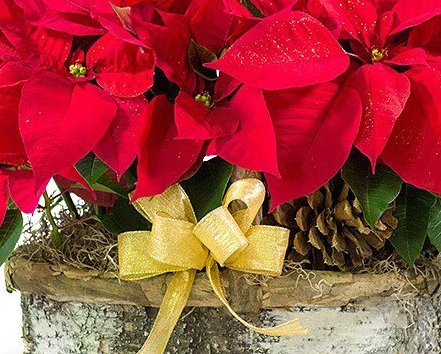 Another business on that side of town that has poinsettias on the mind at this time of year is Sparks Florist. If you're not familiar with them from the name alone, their green and pink logo with the crossed flowers would probably elicit an aha of recognition. Being more of a flower shop than a garden supply provider, they offer their poinsettias as more of a gift package than as a landscape accessory, and they've got the white version of the plant available in addition to the ubiquitous red leaves that are so traditional. Photo at left: Facebook, Sparks Florist.
These are just a few places in town where you might be able to score your very own poinsettia this year, and if your own favorite plant-pusher has sold out, they might still be able to help you out. Because as it turns out, red food coloring splashed over some baby spinach isn't going to fool anyone. (Don't ask me how I know that.)