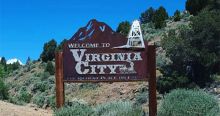 Reno's red-tan, shrub-covered surrounding hills hide one of the best preserved and most entertaining historic Wild West towns surviving anywhere in the United States – Virginia City.
Virginia City was one of the richest places in the world after 1859 and through its huge 1870s boom years. Millions of silver and gold ounces from the Comstock Lode beneath town changed history in the United States and the world by helping to save the Union war effort during the Civil War, make Nevada a state, fund early San Francisco, revolutionize the mining industry and shift the global silver market. 
Photo: Established in 1859, Virginia City remains one of Nevada's most popular and historic destinations.
This incredible frontier mining town's epicenter is still excitingly preserved today. C Street is surrounded by a spectacle of original buildings now open to the public as shops, restaurants and saloons. Tall wooden boardwalk sidewalks line the ground floors of old brick and painted wood buildings with real-deal, 150-year-old creaking bar tops, mirrors, door frames and walls. Businesses today occupy the same spaces that wealthy miners, authors like Mark Twain, performers and even presidents visited during the "Bonanza" period. Actors in Old West clothing stroll the streets with revolver pistols and pose for photos.
Today's entertaining shops and events make Virginia City a must-see for both history fans and visitors seeking a fun experience. Shops, saloons and special events are almost as entertaining and distracting as the town's history. Many of the old buildings' ground floors are now restaurants, placing visitors where more than 20,000 historic townspeople crammed to eat, drink and socialize during the late 1800s. You'll also find house-made ice cream, shaved ice, kettle corn, taffy, toffee and fudge at multiple spots.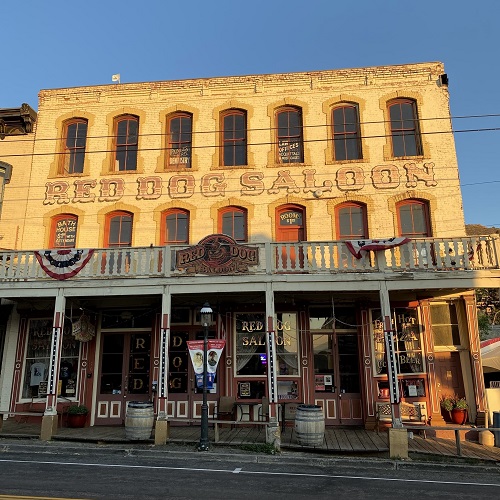 Photo: Like many buildings in Virginia City, the Red Dog Saloon has that iconic Old West appeal.
Local saloons are fascinating stops because they are some of the oldest bars anywhere, having housed generations of different owners since the mining boom. Some have been continually owned for almost a century and include old artwork, maps, historic mining equipment and other Western relics spilled across their walls along. Many have stages for live music. 
Boutique merchants and affordable souvenir shops also await in restored buildings. High-end shops sell upscale Western art, pottery and tile dealers, jewelry and antiques. Several offer home decor goods and crafts like custom cowboy boots and hats or hand-carved wood signs and furniture. Separate shops sell a little bit of practically every nostalgic candy, movie poster, precious stone and Wild West gimmick souvenir imaginable. Old-time photo shops also allow visitors to dress in costumes and take reenactment photos with 19th-century props like guns and whiskey bottles.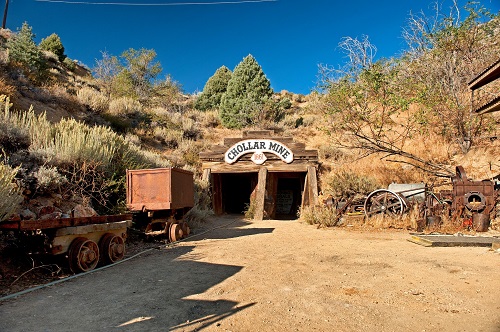 Photo: At Chollar Mine you can learn about the mining history of the Old West and walk through a silver mining shaft underneath Virginia City.
Guided historic mine tours allow visitors to experience the rugged world of Old West mining. Chollar Mine offers an informative guided tour of antique mining equipment like drills and carts; you can then walk 400 feet through a legitimate silver mining shaft underneath town. Ponderosa Saloon's back corner accesses an adjacent mining tunnel that was linked to more mines below and now offers brief guided tours through a cramped, wood-framed shaft.
The social world of laborers, business owners and their families that sprung up to support mining is visible at several more historic landmarks. St. Mary's in the Mountains' Catholic Church was first popular among the many Irish Catholic miners and their families. Tucked on B Street, the old-style, brick Piper's Opera House is a national theater history icon and still hosts special events generations after some of the biggest theater performers and entertainment shows toured here in the Old West. 
Fourth Ward School was one of the West's biggest schoolhouses in the 1870s, providing education for children in the booming mining town. Visitors today are guided through restored original classrooms and exhibits showing how Victorian-era education looked here. Multistory, boxy Mackay Mansion Museum, a former headquarters for wealthy mining bosses, is now open to the public with much historic furniture. The Way It Was Museum exhibits the town's early social clubs, maps and photos, old carriages and mining equipment. 
Virginia City is fun to visit year-round, but it is especially bustling with thousands of visitors in spring for famous special events like the annual Rocky Mountain Oyster Fry, St. Patrick's Day saloon crawls and off-road Grand Prix. In summer it's popular to visit the Hot August Nights classic car show and the International Camel and Ostrich Races. 
Photo: The International Camel & Ostrich Races are held in Comstock in early September.
Staying overnight is possible in several historic accommodations. A modernized historic boutique hotel on C Street features old stone walls and antique furniture in the classy refurbished bar area. Another hotel boasts a massive 3,261 silver-coin tribute to town's mining heritage, along with one of the tallest old bars in Nevada, which was shipped around South America before being reassembled here. Several bed and breakfasts also give the chance to stay in legitimate Old West mansions with modern fixtures and amenities including continental breakfast and views of town and the surrounding countryside.
Less than 30 miles away from Reno, Virginia City is easily accessed from Northern California or Nevada. For a sample of the Old West experience, there's nothing else like it.
Photos from Facebook: Virginia City, NV