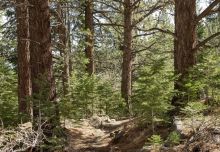 Are you a nature enthusiast with a fondness for breathtaking landscapes and invigorating outdoor adventures? It is time to explore the Reno area, where a diverse choice of hiking trails awaits. From beginner-friendly strolls to challenging treks, these top hiking trails near Reno offer something for everyone. Lace up your hiking boots and get ready to enjoy the stunning wilderness that surrounds the Biggest Little City in the World.
1. Mount Rose Trail
Difficulty Level: Moderate to Strenuous
Mount Rose Trail is a must for avid hikers seeking panoramic views of Lake Tahoe and the surrounding mountains. Located just a short drive from Reno, this 10.6-mile, round-trip trek is not for the faint of heart. Ascend to more than 9,300 feet and be prepared for some steep inclines, but the payoff is incredible. Breathe in the crisp mountain air and take in the sweeping vistas that stretch as far as the eye can see.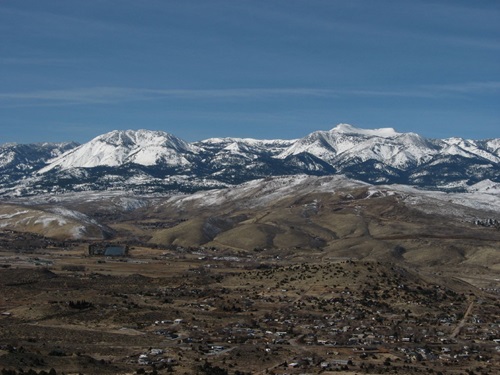 View of Mount Rose and Slide Mountain betweeen Virginia City and Reno by Ken Lund, Reno, Nevada, via CC BY-SA 2.0" target="_blank">Wikimedia Commons
2. Hunter Creek Trail
Difficulty Level: Moderate
Looking for a hiking trail that combines scenic beauty with proximity to the city? Hunter Creek Trail offers the best of both worlds. Just a short drive from downtown Reno, this 6.4-mile loop features a picturesque waterfall, lush meadows and captivating rock formations. The moderate terrain is suitable for hikers of all levels, making it an excellent option for a day of group outdoor exploration.
3. Galena Creek Trail
Difficulty Level: Easy to Moderate
For a family-friendly hike, Galena Creek Trail is an ideal choice. Located within Galena Creek Regional Park, this 5.4-mile out-and-back hike meanders through a serene forest of towering pines and offers glimpses of the pristine Galena Creek. The trail's gentle inclines and well-maintained paths make it perfect for beginners and a peaceful escape for nature lovers of all ages.
4. Thomas Creek Trail
Difficulty Level: Moderate
Nestled in the foothills of the Sierra Nevada, Thomas Creek Trail offers a moderate 5.4-mile loop that leads you through pine forests, across a trickling creek and past serene meadows. This hike is perfect for birdwatchers, as the area is teeming with a variety of avian species. Bring your binoculars and keep your eyes peeled for feathered friends while you explore this lovely trail.
5. Spooner Lake Trail
Difficulty Level: Easy
For a pleasant beginner-friendly hike, head to Spooner Lake. Located a short drive from Reno in Lake Tahoe Nevada State Park, this 2.2-mile loop trail encircles the stunning Spooner Lake. The level terrain and picturesque views make it an ideal choice for a leisurely stroll or a family outing. Birdwatching and picnicking by the lake are also popular activities here.
6. Ophir Creek Trail
Difficulty Level: Strenuous
For those seeking a real challenge, Ophir Creek Trail will put your stamina and endurance to the test. This 13.3-mile round-trip hike starts in Washoe Valley and leads you to the breathtaking Sierra Nevada backcountry. As you ascend into the high alpine environment, you will be rewarded with pristine mountain lakes and spectacular vistas. Be sure to bring ample water and be prepared for changing weather conditions, as this trail takes you into the heart of the wilderness.
7. Chickadee Ridge Trail
Difficulty Level: Easy
Chickadee Ridge is perfect for a family-friendly hike with a unique twist. The 2.2-mile loop starts from the Mount Rose Summit parking area and leads to a delightful experience. Here, you can hand-feed mountain chickadees, which are known to eat seeds right from the hand. The trail offers fantastic views of Lake Tahoe and the surrounding peaks, making it an unforgettable outing.
At Chickadee Ridge Trail, wild mountain chickadees are known to eat seeds right out of your hand. Photo from Image by wirestock" target="_blank">Freepik. 
8. Jones Creek Trail
Difficulty Level: Moderate
Jones Creek Trail offers a 5.3-mile round-trip hike that takes you through lush forested areas, past a bubbling creek and to a scenic viewpoint. The trail is well-maintained and popular among locals for its accessibility and beautiful sights. It is an excellent choice for those seeking a moderate workout without venturing too far from Reno.
9. Hunter Lake Trail
Difficulty Level: Moderate to Strenuous
Hunter Lake Trail is a hidden gem for hikers looking to escape the city's hustle and bustle. This 5.6-mile round-trip trail boasts a lovely alpine lake surrounded by pine trees – an eye-catching reward for your efforts. Although the hike can be steep and challenging at times, the tranquility of Hunter Lake is worth every step.
10. Rattlesnake Mountain Trail
Difficulty Level: Easy to Moderate
Located in the northwest area of Reno, Rattlesnake Mountain Trail offers a moderate 4.3-mile loop with spectacular views of the city, the Truckee Meadows and the Sierra Nevada Mountain Range. This hike is a local favorite, perfect for those seeking an after-work adventure or a peaceful weekend escape.
For both experienced hikers and novice explorers looking to embrace the great outdoors, Reno and its surrounding areas provide an excellent selection of hiking trails suitable for all levels of expertise. These trails not only offer exercise and a chance to connect with nature but also let you fully appreciate the diverse and glorious landscapes in the region. So, pick your trail, pack your hiking gear and embark on an adventure through the gorgeous natural beauty that awaits just beyond Reno's city limits.