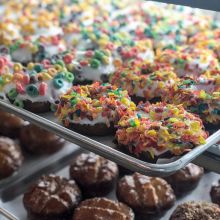 I know, I know. It's only February, and anyone who chose on January 1 to commit to a wholesome, healthy and decidedly doughnut-free lifestyle in 2018 is (hopefully) still on that track. But just who could ever resist that fluffy, sweet, chocolate-and-sprinkle-covered round of deliciousness, at least once in a blue moon. Maybe twice.
As Reno evolves into a haven for artisan food lovers and craft aficionados, it seemed to have the bases covered for sweet morning treats. I mean, as you'll see, some of the best doughnut shops have been around for decades. But a place like Portland, Oregon – perhaps a not-so-distant cousin-city to the modern Reno in food, arts and culture – has a bona fide tourist attraction in Voodoo Doughnut, where popular menu items include cereal-covered donuts, bacon-topped maple bars and crushed Oreo and vanilla-topped pastries. It's about time we got in on some of that action.
So here's a guide to the old, the brand new and the all-time best doughnuts the city has to offer.
Let's start with the newest face in Midtown. Holey Schmidt Donuts, freshly opened next to the Discovery Museum on the east side of Virginia Street, is the product of the burning desire to bring a specialty doughnut shop to Northern Nevada. It's the first, and it'll be certainly hard to top its Voodoo-esque creations for a long time to come. There was a line out the door each day this past weekend – its opening weekend – so much so that they ran out of doughnuts to sell on their first day. With bright and colorful donuts fused with candy, graham cracker, cereal, homemade frosting and even potato chips, who could blame them? Plus being right next to the Discovery, the place is as bright as its treats and super kid-friendly.  
Photo: Holey Schmidt Donuts, Facebook
Now if you want a true marker of Reno's uniqueness, look no further than lower Midtown's Jelly Donut. For years, attached to the end of a coin-op laundromat, there's been this humble spot with a giant sign that seems to signal the arrival into Midtown Reno on Virginia Street. But as a local open secret, Jelly Donut continues to make some of the most delicious classic donuts in all of Reno, 24 hours a day. So next time you're out late and feel like a sweet treat at 2 a.m., or even if you have a load of laundry to do – don't forget about Jelly Donut.
There's something about the Doughboy's donut that makes it so tantalizingly sweet and truly one of Reno's favorite doughnuts. Maybe it's that the dough is fully glazed from top to bottom, then dipped in a light chocolate, vanilla or strawberry frosting. Or that each Doughboy's locations (one in Damonte Ranch and the other off of Northwest McCarran) challenges you as soon as you walk in with a massive doughnut in its glass case, the size of at least four of the regular sized treats. Whatever you get, you're sure to be back again, especially if you get lucky and snag a warm, melt-in-your-mouth glazed doughnut right off the baker's rack.
Finally, I realize that you, on your quest for the best doughnut in Reno, may be accompanied by others who may not love the breakfast treat the way you do. For you, there is Rounds Bakery on Moana. See, the doughnuts – classic, with all of your favorite varieties – are just one of the many amazing baked goods. Rounds has an impressive roster of freshly baked bagels like sriracha provolone, jalapeno cheddar and so many others. Plus, there's a whole menu of breakfast sandwiches, wraps and light meals. So go ahead and get that delicious doughnut, and your guests will happily join you with the bagel that has made this bakery famous in Reno.
Photo: Rounds Bakery, Facebook
This weekend, chase that sweet tooth and hunt down the greatest doughnut in Reno. And if you find a place with an equally great doughnut not mentioned here, add it to the list and make this the sweetest, glaziest, doughiest tour the city has to offer.
For all other events this weekend, visit our Daytime, Nightlife and Community pages.