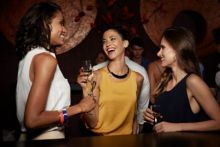 If you love the nightlife, Reno is the place for you. The city's bright lights and entertainment options make it the biggest nightlife and bar scene for much of the mountain west region and a nationally recognized entertainment hotspot. Major nightlife locales include Downtown, Midtown, the University of Nevada, Reno scene and Sparks, each highlighting the different faces of this rowdy casino and college town.
Here's a breakdown of where to explore when going out.
Downtown
Major casinos are piled along Downtown's central ROW District along Highway 395. City blocks of gaming machines extend vertically in towers that you could spend a weekend in without ever leaving. Gambling is supplemented by low-light and loud-DJ nightclubs, brewpubs, steakhouses and bars, not only for beer but also jazz, cocktails, coffee, buffets and food courts. It's easy to plan your visit to coincide with comedians and concerts in these casinos' showrooms, too. Although Downtown is the center of Reno's casino industry, more major casino options exist a few miles away from the strip as well.
Downtown's nightlife scene is also supported by huge stadium attractions to enjoy alongside the bars and casinos. Greater Nevada Field houses Reno's Aces Triple-A baseball team, for example. At the Reno Events Center you'll find bull riding, boxing, basketball, touring musicians and the like. You can also opt to have a drink while watching professional bowling at downtown's National Bowling Stadium. Be sure to check out all the action near the famous Reno Arch. 
Midtown
Midtown provides fashionable and fun nighttime offerings that are some of the most exciting places to visit in Reno. This zone south of the Truckee River is at the forefront of Reno's trendy bar and lounge scene, which provides a great alternative to the conventional gambling setting that the town is typically known for.
Midtown's diverse cafes and bakeries are great to visit during the day, and after dark S. Virginia Street lights up with taverns, wine bars, public houses and beer halls. Many have outdoor patio bars and DJs, and all have distinct atmospheres with specialty drinks and fun themes including dessert bars and speakeasies.
You can also take advantage of these locales' food trucks and kitchens to enjoy more than just drinks. Hopping between bars for the evening is a great way to explore Midtown's revitalized and growing scene.

Midtown Spirits, Wine & Bites is a wine bar and ultra lounge offering the quintessential Midtown experience.
University Scene
University of Nevada, Reno, one of Nevada's two major public universities, supports an energetic bar scene to enjoy before sporting events on campus or heading into downtown later on. Crowds flock to the college bars adjacent to campus on N. Virginia Street during drinking time on weekends and game days.
Mackay Stadium football field, Lawlor Events Center basketball court and Peccole Park baseball field are located across the street and collectively house most of the university's home athletic games along with professional sport exposition games, big-name concerts and rodeo shows. College-linked nightlife extends beyond campus and into downtown, too, where several bars attract young crowds with game-day discounts and very cheap happy hours. The social energy produced by regular weekend partying and athletic events catalyzes big turnouts at college bars near campus and downtown.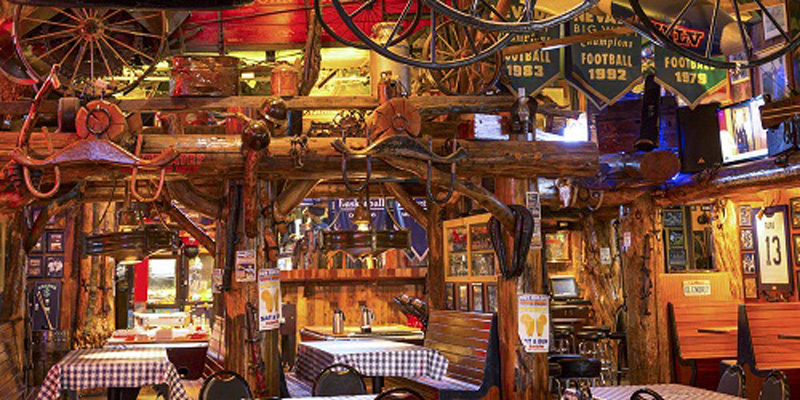 Little Waldorf Saloon has been a Reno favorite since 1922. Located right across from UNR, it's a classic college bar.
Outside the Center
Several of the most worthwhile bars and nightlife spots to visit in Reno are located away from the busy center of town and nevertheless provide great experiences. The Village at Rancharrah several miles south of downtown provides a casual upscale outlet for food and drink combinations like Mexican dinner paired with literally hundreds of tequila options. Another venue in the same plaza offers hundreds of whiskey and wine bottle varieties, setting a great stage for adult dining and drinking until around 11 p.m.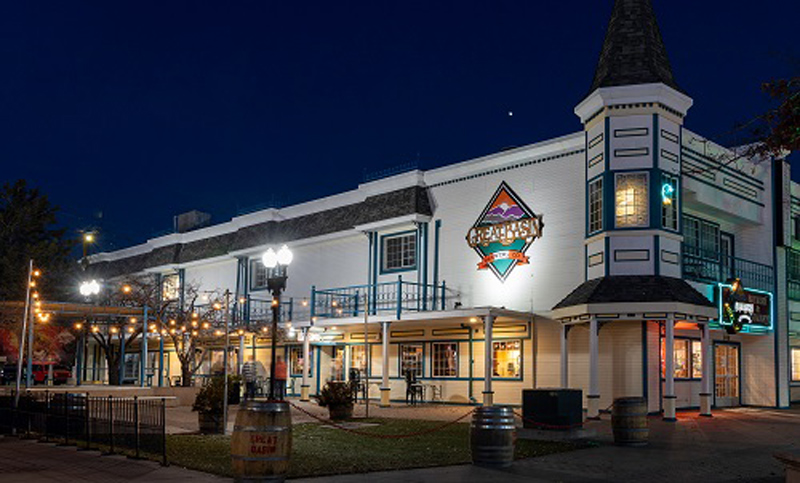 Great Basin Brewing Company is at the heart of Sparks nightlife with food, beer and music.
Sparks
Sparks' Victorian Square houses one of the Reno area's biggest breweries and a movie theater plaza with a more lowkey attitude compared to downtown. Several blocks of well-known Irish pubs, cantinas and country bars offer live music and capacity for large events, and one particular saloon is a local favorite for its divey indoor smoking reputation. The Nugget Casino's outdoor amphitheater also livens up Victorian Square with big-name concert events; visitors can enjoy exploring the nearby restaurants and bars before or after a show.
Sparks Marina also provides a waterfront outing opportunity amid an otherwise relatively dry landscape. The lake is complemented by an upscale outlet shopping center, a cinema and a casino with a great steakhouse. These are surrounded by local upscale and casual restaurants along with several fun bar options. This revamped part of Sparks has a lot to offer as a night-out venue whether you're there for meeting friends, date night or family time.
For all you need to know, see our listings of local Bars and Restaurants and of course our Nightlife events listings.