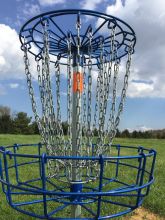 A couple of weeks ago I posted about the state of disc golf down in the Carson area and was going to follow up with a survey of the courses here in the Reno area, but I got sidetracked by the smoke. Better late than never, let's take a look at the offerings here in the local neck of the woods for those who like to chuck discs at chain baskets. Some of the course facilities and equipment were mothballed earlier in the year to help enforce pandemic protocols, but you should, for the most part, be able to get back out on the courses now. Photo at left: Pixabay, Joshua Choate.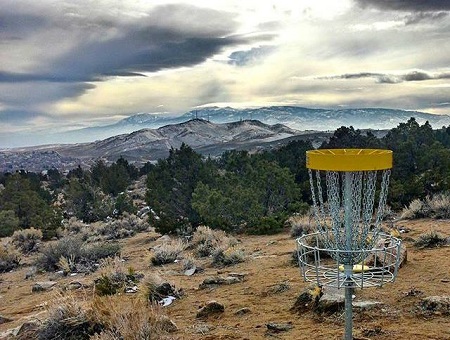 Way up north in Sun Valley is the Lizard Peak Disc Golf Course, a really comprehensive facility, with a 27-hole course and a nine-hole pitch and putt loop. Now, I don't know if they made the name up specifically for the disc-golf course or not – I mean, I know of Lizard Hills out in Nye County, but I'm not familiar with a Lizard Peak here in Washoe County – but you actually do stand a good chance of seeing some lizards out here. Everybody always thinks of Reno in relation to Interstate 80 heading east to the interior or west to California, or U.S. Highway 395 heading down south to Carson. But up here north of the city in Sun Valley, you get a better sense of what the area really looked and felt like in the days before it was settled. This course puts you right in among the sand and the sage and is true Nevada through and through. Photo at right: Facebook, Upper Park Designs.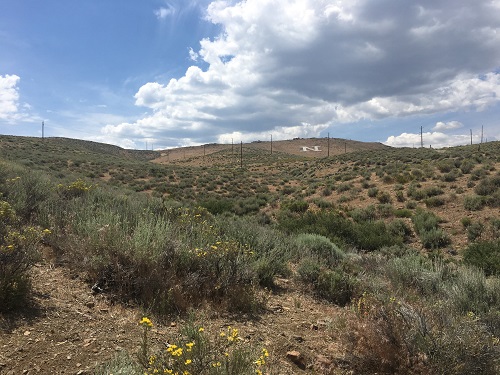 Heading back into town, there's the Ranch Disc Golf Course at Rancho San Rafael Park, just off N. Virginia. The Ranch sports 18 holes, and although this course gets you out into the high-desert environment (like Lizard Peak does), it also gives you some views of the greenery on the Truckee River riparian zone and of the Reno city skyline. The area is multi-use, so be aware of other outdoor enthusiasts in the area. And, of course, Rancho San Rafael has tons more to offer in the way of interesting diversions, so you might want to make a whole day of it and check out something like the Wilbur D. May Museum (yup, it's among the facilities that have reopened) before or after your round of disc golf. Photo at left: Facebook, Rancho San Rafael Regional Park.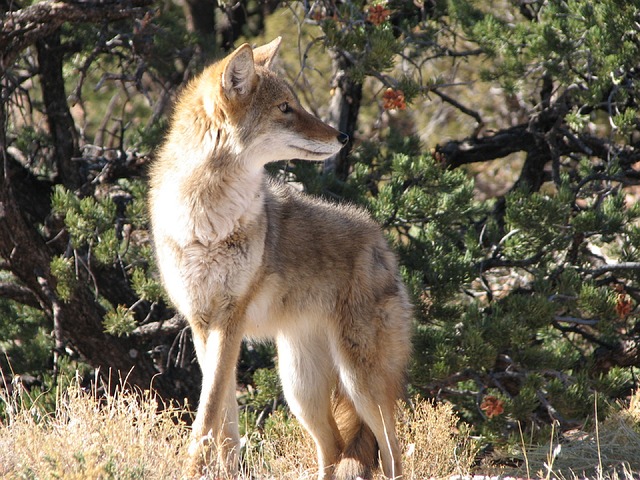 On down to the south end of Reno, there's a course at the South Valleys Regional Sports Complex known as the Wedge (you know, like as in Wedge Parkway, the road that connects Mount Rose Highway with Arrowcreek Parkway). It's kind of tucked in between the park and the freeway and will give you a decent idea of the kind of rocky, sandy gullies and ridges that are so prevalent here in the valley below the foothills. This is a nine-hole course, with a nice view up past Galena to Mount Rose, and it's not unheard of to spot a deer or coyote in the area if you're here early or late in the day. (I once saw a pair of coyotes walking the trails in this area just as bold and brassy as if they were Washoe County taxpayers....) This course is right next to the South Valleys Library, which is currently only open for holds pick-ups on Tuesday and Thursday from 10 a.m. to 2 p.m. (but as of September 8, the whole library system should be seeing some increased branch hours). Photo at right, Pixabay.
The bottom line is that wherever you are in Reno, there's a disc golf course not too far away. Get yourself some discs, head out and have some fun. Practice social distancing and be nice to other folks who are enjoying the outdoors, and we'll all get through this together.