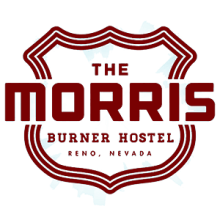 Burning Man Everyday at This Reno Hostel
In the summer of 2013, brothers Jim and Don Gibson purchased a classic but dirty piece of Reno history; the 43 room Morris Hotel. From there, the Morris Burner Hostel began to take form. This hostel lives by the Burning Man philosophy every day, bringing the playa to the Biggest Little City 24/7. Morris Burner Hostel is a living piece burner art, with 13 burner designed rooms, and more on the way. 
Stay & Play at This Reno Hostel
The Morris Burner Hostel is more than just a place to rest those weary eyes, it's also a place to play. This Reno hostel has both indoor and outdoor performance venues, as well as a bar open during the summer months. This Reno hostel also does events and community outreach including feeding the homeless, giving away coats to those in need, and charity fundraisers.  
Reno Hostel Offers Memberships 
The Morris Burner Hostel offers a unique membership opportunity to those who are interested. There are several tiers and price levels to choose from ranging from $10.00 - $1,000.00 with different benefits for different price levels.